Royal Mail reinstate deliveries to unmade Benfleet roads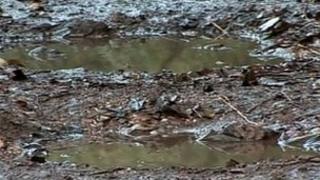 Postal deliveries are to resume to more than 100 Essex homes where the private roads were deemed to be in too poor condition for Royal Mail staff to use.
In November Royal Mail suspended deliveries to addresses on 13 roads in Benfleet on 1 November because it said the potholed roads posed a safety risk.
It said after consulting safety experts it had now reorganised its routes and would use different vehicles.
The postal deliveries will be reinstated to most homes on Monday.
However, Royal Mail said it was still unable to deliver to six addresses because of the poor condition of the roads.
Since deliveries stopped last month, residents have been having to collect their post from a nearby delivery office.
'Common sense'
Royal Mail regional operations director Nicola Scrivings said that in this case they had had "no alternative" to suspend deliveries at the time.
She said: "I fully appreciate and apologise for the inconvenience caused by our recent decision to temporarily suspend deliveries to these customers.
"We take the safety and welfare of our postmen and women extremely seriously.
"The fact remains that these roads are in a poor condition and some are not even roads, they are bridlepaths."
She added they were keen to meet with the six homes which remained suspended to resolve the issue "as soon as possible."
Conservative MP for Castle Point, Rebecca Harris, said the decision was "a victory for common sense".
She said: "I couldn't believe the roads posed enough of a risk for a blanket suspension.
"This has been a real inconvenience for hundreds of people in the affected households and I am glad that Royal Mail got moving and put it right before Christmas."