Chelmsford Chess charity sleeps rough for homeless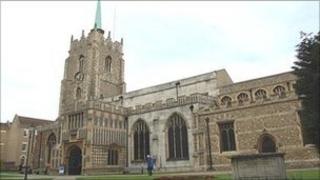 An overnight "sleep-out" will be held later within the grounds of Chelmsford Cathedral in Essex to raise awareness of homelessness.
The annual event has been organised by the Chelmsford Churches Homeless Emergency Support Team (Chess).
Money raised from the sleep-out will be used to help the town's rough sleepers during the Christmas period.
Essex County Council's homeless response team will also be taking part.
Kevin Quantrill, from the council, said: "I think the main thing for us is to actually experience it and get involved so that, when we are working with the young people, we can use this experience to educate them in the effects of homelessness."
He added that, while there were no formal statistics about the number of adults sleeping rough in Chelmsford, there were at least 10 who were currently known to them.
His colleague Alistair Bland said funding for charities such as Chess was vital.
He said: "We work for the local authority whereas Chess are a charity and there is no real funding for the adult homeless.
"So we're there not only to share the experience and be out there in the cold, but also to raise some money to support the adult community over the Christmas period."