Coins handed in after plea over Twinstead metal detecting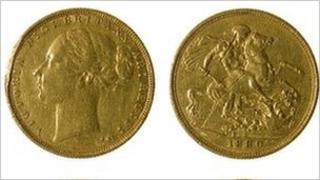 Thirty Victorian and Edwardian coins discovered at a metal-detecting event in north Essex have been handed in after a police appeal.
Enthusiasts using metal-detecting equipment dug up about 200 coins, thought to be worth about £350 each, at a site in Twinstead on Sunday.
Police said on Thursday that only two coins were handed in to be declared as treasure trove to the county coroner.
A spokesman said a further 30 sovereigns had been declared.
A further eight people came forward on Friday but a lot of the sovereigns are still missing.
It is believed that one person left with about 70 coins, the spokesman said.
Police have appealed for anyone with the remaining coins to come forward.
The spokesman said no-one could be prosecuted if they handed the coins in within 14 days from the find, as laid down by the Treasure Act 1996.
The whole area is now thought to have been cleared of the coins, which are believed to have been undiscovered for more than 90 years.