Arianna Morgan's Songbird bid for Christmas number one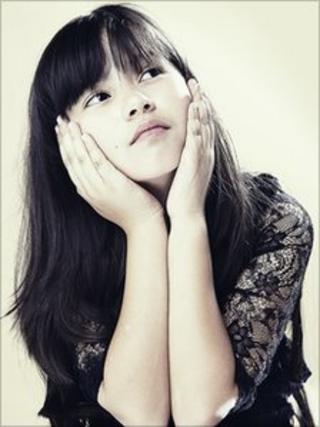 A 10-year-old schoolgirl from Essex has admitted the possibility of being this year's UK Christmas number one is "overwhelming".
Arianna Morgan, from Thundersley, is currently the joint-fifth favourite to top the charts, with her cover version of Fleetwood Mac's Songbird.
Bookmaker William Hill has her at 14-1, along with Amy Winehouse and Wham.
She said: "It would actually be really overwhelming. It would be the best Christmas present ever."
"I'm pretty excited about what might happen. It's been all happening rather quickly, but it's still a lot of fun," she added.
Arianna said she had been singing seriously for about two years, but it was a big step forward when she was heard by music producer Tony White.
She said: "I was singing at a charity event for Proteus Syndrome and a producer spotted me and thought it would be really fun to work with me.
"We soon got the single done and it all just started happening."
'Really proud'
Her debut single, a version of a track from Fleetwood Mac's 1977 album Rumours, was released on Sunday and an album is due out next spring.
Despite her musical ambitions, the 10-year-old, who cites Beyonce, Lady Gaga and Mariah Carey as influences, said her main focus remained on school.
She said: "My number one priority is school and my education, because it's important in life.
"My school friends are all really proud of me, they're all making sure I'm doing well and are always checking up on me and the teachers are all so supportive."
The current favourites to top the UK singles charts this Christmas are the winner of this year's X-Factor competition, followed by the Military Wives Choir, then Nirvana.