Essex A12 concrete attack: reward of £3,000 offered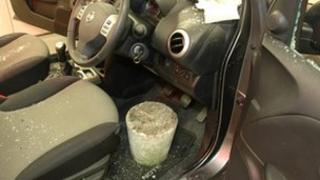 A reward of up to £3,000 has been offered to find those responsible for dropping concrete blocks on to cars in Essex.
A 57-year-old woman was seriously injured and a mother and daughter left shaken when the blocks hit two cars on the A12 on 1 December.
Police are treating both incidents, which happened eight miles apart, as attempted murder.
The reward is being offered by independent charity Crimestoppers.
It said the money would be given out for a successful prosecution.
On Monday, Lisa Horne, 26, whose Vauxhall Astra was hit by a large concrete block dropped from Fryerning Lane Bridge, near Ingatestone, spoke of the attack at a police press conference.
'Bucket-sized block'
"It was as if somebody had put their hands over my eyes. I heard a bang and my windscreen just shattered," she said.
"I was in the slow lane doing 55mph because it was raining and my mother shouted to pull on to the hard shoulder.
"If I was doing one mile an hour more it could have gone straight through the windscreen."
Forty minutes later, a bucket-sized block was hurled on to another car from West Hanningfield bridge, near Galleywood.
The car's front seat passenger, a 57-year-old woman, suffered fractures to her face and ribs and internal injuries when the block smashed the windscreen.
Her husband suffered minor cuts and bruises.
'Shocking pictures'
Police investigating the attacks are trying to determine whether they have any definite links to more than 30 similar incidents on bridges along the A12 in Essex over the past three years.
Ann Scott, eastern regional manager for Crimestoppers, said: "This mindless attack has resulted in some life-changing injuries for an innocent woman out enjoying the day with her husband.
"The shocking pictures demonstrate the damage and potentially fatal consequences this could have had.
"Has someone confessed to being involved in either incident? Did someone display unusual behaviour that night?
"Perhaps someone witnessed the events or saw suspicious activity in the area around that time.
"Crimestoppers wants to receive any information no matter how insignificant it may seem."