London 2012: Olympic torch for Harlow youth councillor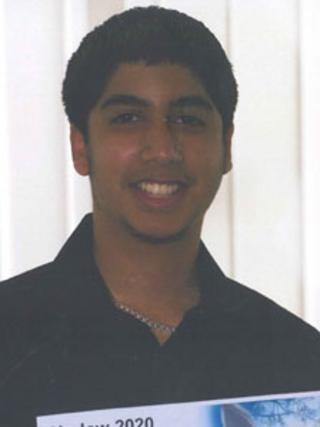 A former youth councillor from Essex has been offered the chance to be an Olympic torchbearer.
The Olympic flame will arrive in the UK from Greece next May before travelling 8,000 miles around the country.
Bharat Thakrar, 21, from Harlow was one of 6,800 people to have been given a conditional offer by games organisers to carry the torch for 300m (984 ft).
Mr Thakrar, who served as a youth councillor for five years, said he was "over the moon".
The university student was nominated for his services to his hometown between the ages of 13 and 18-years-old.
During that time he helped a campaign for a skate park to be built and a youth cafe to be set up in the town.
'Great opportunity'
He said: "It is such an honour to have been recognised for the hard work that I have put in to supporting and helping make a change for my peer youth within the community.
"The relay is going to play an important part in bringing communities together.
"It is such a great opportunity for young people like myself to demonstrate what we are able to achieve."
Mr Thakrar was one of more than 60,000 people nominated to be a torchbearer.
Part of his nomination read: "Whenever he has the opportunity, Bharat will try to make a real change for those around him as he enjoys helping others and making others happy."
Confirmation of the final 8,000 torchbearers will be announced by the games organisers, Locog, in March 2012.
On average, 115 people will carry the torch each day.
The elay will begin at Lands End, Cornwall, on 19 May and visit 17 towns and villages in Essex on 6 and 7 July.