Fair Havens Hospice withdraw planning application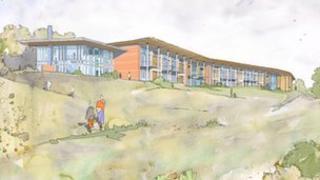 A planning application to build a £15m hospice on green belt land in Essex has been temporarily withdrawn.
Fair Havens Hospice had submitted plans to Southend Borough Council for a two-storey building on a 7.9 acre site in Leigh-on-Sea.
It said there was an "urgency" for larger premises to cater for demand.
The hospice said it had decided to drop its current application after the council's planning officer had recommended it should be refused.
Plans included a 16 bed in-patient unit and a day care centre.
The company said last year it had to turn away 49 patients with life limiting illnesses because it did not have enough beds in its current premises in Westcliff.
'Time to reflect'
In a report to the council's development control committee, the planning officer said it did not feel the plans for Belton Way demonstrated the "very special circumstances" needed to justify it being built on green belt land.
It said whilst there was an accepted need for increased capacity in palliative care in the area, the application's site selection and design were not robust enough to meet those circumstances.
Havens Hospices chief executive Andy Smith said: "We will now be taking our time to reflect on this report and what steps we take next.
"We always said we wanted to be judged on the merits of our case and the officer's report shows we have not yet fully explained the urgent need for a new hospice for Southend."
He added the hospice would now work with the council to reassess its plans for its new building.