Restoration of Finchingfield Guildhall to begin in January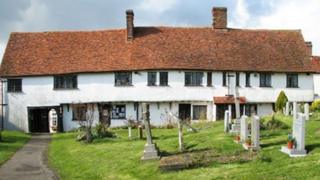 The £1.8m restoration of a 540-year-old Grade I listed building in Essex is to begin next month.
Work on the Finchingfield Guildhall will begin on 4 January, in one of the "largest projects in its history".
In its time the guildhall has served as a religious meeting place, school, almshouses, library and museum.
Its trust has spent five years raising funds for the restoration and has received more than £1.3m from the Heritage Lottery Fund.
Jeremy Toynbee of the Finchingfield Guildhall Trust said: "Generally the building is in too poor a state of repair to be safely used.
"The whole building is being stripped back. The roof is coming off completely because the timbers are known to be weak.
"Currently the building is divided up into almshouses, but that's all coming out and going back to its original layout."
'At risk'
The Guildhall was built in about 1470 by the Guild of the Holy Trinity for use as a place for Christians to become "closer to God".
Following the dissolution of the monasteries by King Henry VIII it was bought by a local landowner and had several uses.
Mr Toynbee explained it was on the English Heritage "Heritage at Risk" register and said without the work, its future was bleak.
He said a restoration project in the 1950s, although vital, had used "unsympathetic" techniques and materials.
"It was rendered in cement, where it's recognised you should be using lime renders and things like that," Mr Toynbee said.
"So all the render has got to come off, all the timber frames have got to be checked over, and the floor is coming out and being re-laid with a lime-based floor structure."
Site preparations began in early December and the building is due to reopen for public use in April 2013.
It is planned the guildhall will once again be home to the village's museum and library and be used for community events.