Fake goods worth £30,000 seized by Essex Police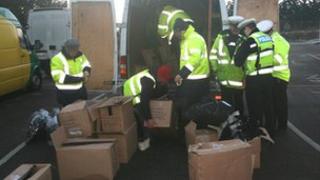 Fake designer clothes, boots and makeup estimated to be worth more than £30,000 have been seized by police in Essex.
The items were discovered after vans were stopped and searched near junction seven of the M11 at Harlow on Saturday.
Essex Police and trading standards officers checked vehicles heading to the market at North Weald Airfield.
Two men were arrested and later bailed on suspicion of having counterfeit goods. Another man was cautioned and a teenage boy released without charge.
Essex Police said while the vehicles were being checked for their road worthiness, trading standards officers checked their loads for fake goods.
Two vans containing counterfeit clothing and boots were seized.
A 26-year-old man from Canning Town and a 30-year-old from Plaistow were bailed until 29 February.
Three other people were reported for trading standards offences and four traders were given warnings.