Harwich fire: £13,000 raised for homeless families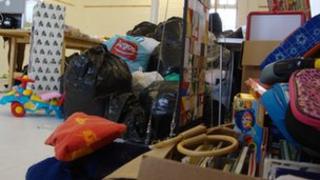 More than £13,000 has been raised for the five families made homeless by a fire that destroyed a row of Grade II listed buildings in Essex.
The 17th Century properties in West Street, Harwich, were badly damaged by the blaze, which spread across the roofs on 7 December.
Harwich Town Council has co-ordinated various local fund-raising efforts and collections of clothes and other items.
Its mayor, Barry Brown, described the response as "absolutely amazing".
He said about £1,600 had already been given to each family and he hoped another payment would be made before Christmas.
'Tremendous help'
Mr Brown said: "There's still more money coming in from little clubs and little organisations - every single source you can imagine.
"For example, the East of England Co-Operative Society has sent in £5,000, and children from the Harwich and Dovercourt High School had a non-uniform day and raised £1,150."
One of the fund-raisers, Katrina Olive of the Home Grown Crafts shop, started her appeal for clothes and money within hours of the fire.
She said: "It's been going amazingly well. The total so far in cash donations through the shop is £1,500.
"We did a sale of the leftover items of clothing and other objects on Saturday which raised another £250.
"We've still got things left over, but we're thinking about donating it to other charities in the local area, like the Salvation Army."
She added: "We've had all the families come in. They've collected curtains, duvet covers, cutlery, crockery - you name it they've collected it.
"So it has been a tremendous help for them."