Chelmsford Diocese counts cost of church metal theft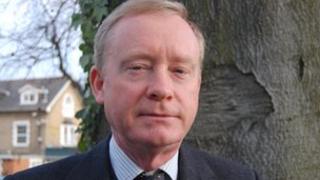 An Essex diocese with the worst metal theft problem in the country has described the major impact the issue is having on churches and parishioners.
Churches in the Anglican Diocese of Chelmsford have made insurance claims for metal theft totalling more than £940,000 in the past five years.
The area was named the worst for metal thefts in 2011 by an insurance firm.
Dr James Bettley of the diocesan group that cares for the churches described the thefts as "disheartening".
He said: "We're talking about some of the most important buildings in the country.
"Hatfield Broad Oak for example has a Grade I-listed church which has been targeted repeatedly and is facing bills of up to £100,000 to put that right."
According to figures from insurance company Ecclesiastical, more than 90 metal theft claims came from the diocese in 2011, which covers Essex and five London boroughs.
Dr Bettley said he had written to the 29 MPs in the area to highlight the problem and call for them to support moves to make the sale of stolen metal more difficult.
He said: "It's very disheartening. Especially when you think of the amount of effort that goes into the fundraising.
"Suddenly you find all that money has to be spent putting back the roof, because insurance companies are limiting how much they pay out.
"The damage it does is not only to the buildings, but the communities they serve."
'Very upsetting'
Last year the vicar and parishioners of St Andrew's in Hornchurch slept overnight in the church to deter raiders, following more than 10 thefts.
The Reverend Barry Hobson said the losses well exceeded the £5,000 paid out by its insurance company, with replacement felt alone costing £10,000.
He said: "It's such a difficult task to manage.
"We've done the obvious things by putting alarms on the building.
"Even that won't be absolutely secure, but it's the best we can do."
The church organ also needs restoration costing "tens of thousands of pounds" following water damage caused by the theft of lead from the roof.
Organist Andy Losk said: "It's very upsetting both for me as the organist and for the congregation.
"It's such an integral part of the worship process and has meant we have suffered as a congregation."