Invicta Charity to help injured soldiers in Colchester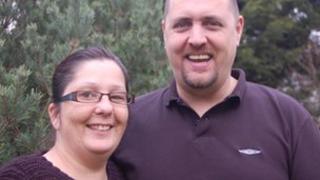 A couple whose son was injured in Afghanistan have said setting up a charity for wounded soldiers had helped them deal with their own experience.
The Invicta Foundation was started last year by Stephen and Cheryl Hall, from Boxted.
In July 2010 their son, Sapper Ashley Hall, was injured by an improvised explosive device (IED) in Afghanistan in July 2010.
He lost both of his legs above the knee and suffered a shattered pelvis.
After several months at the Queen Elizabeth Hospital in Birmingham he returned home to be cared for by his parents, while also undergoing rehabilitation at Headley Court in Surrey.
Life-changing injuries
During this time, the couple started their charity in order to raise £500,000 to build a specially-adapted house in Colchester for injured service personnel and their families.
The couple explained their experiences with their son was the catalyst for the idea of building a bespoke house for soldiers and their families to live in between leaving hospital and starting rehabilitation.
Mr Hall said: "As you can imagine, taking somebody who is now a disabled person home to an unadapted house is a nightmare.
"[With the house] they would actually start the healing process of coming to terms with what's happened, because these are life-changing injuries.
"The whole family would be able to go there and the soldier wouldn't feel he's totally dependent on them."
Mrs Hall added it was just as important for their families to be helped, both practically and emotionally.
'Positive point'
She said: "The dynamics within a family can change completely when you go through something like this.
"It would also give the families the opportunity to see what adaptations need to be made for their own homes."
In February the charity will open a drop-in advice centre for soldiers and their families in Lion Walk, Colchester.
It will also act as a new base for the charity, which has previously been run from the family's front room.
They hope to work with other military charities to use it as a place for people to seek advice, information and share experiences.
Mr Hall said: "If we can get families together then it helps with the healing, because you're talking to someone who knows the position you are in."
The pair agreed the process of setting up the charity had played a part in coping with their own situation.
Mr Hall added: "I felt it has helped me by being able to help others and put a positive point on what happened to Ashley."