Colchester charity donation helps children's unit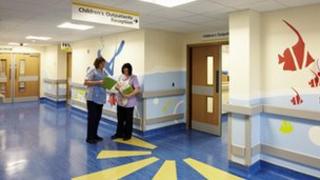 A children's unit at an Essex hospital has taken delivery of equipment worth £9,000 donated by a local charity.
Colchester Helping Anyone in Need (Chain) raised the money for the unit at Colchester General Hospital.
It includes three intravenous pumps, an electrocardiogram machine and a specialist changing bench.
Graham Appleton, children's services fund-raiser at the hospital, said: "The equipment will make a big difference to our babies and children."
The intravenous pumps will be used when transferring seriously ill children by ambulance to specialist centres for treatment.
Previously they have had to borrow pumps from the hospital's critical care unit.
'Popular cause'
Since it was set up in 2005, Chain has previously raised more than £20,000 for Colchester's two hospitals.
Mick Duffett from the charity said it was originally started to raise money to help people affected by the Boxing Day tsunami of 2004.
He said: "We decided to carry it on and must be pushing over £80,000 raised. We give out both little amounts and big amounts.
"[The children's unit] is a very popular cause and one that we have supported in the past.
"We visited the ward to find out how we could help and were warmly received."