Man in Braintree double death case had Asbo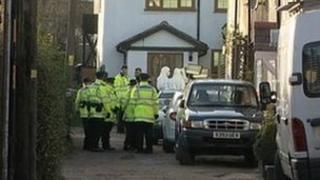 Two neighbours found dead in Essex had been involved in a dispute that resulted in one of them receiving an anti-social behaviour order (Asbo).
Richard Wight, 55, appeared in court in 2009 for using "abusive words" towards Alan Taylor, 59.
Both men were found dead in their adjoining properties, in Eagle Lane, Braintree, on Sunday.
Police said initial tests indicated they would not be looking for anyone in connection with the deaths.
An Essex Police spokesman said: "Forensic examinations of both addresses are continuing in order to clarify this position."
A spokesman for the Crown Prosecution Service said Mr Wight was handed a six-month conditional discharge at Chelmsford Crown Court in September 2009.
He pleaded guilty to breaching the Asbo issued in November 2007.
The spokesman said Mr Wight had admitted using "abusive or offensive" words within earshot of Mr Taylor in January 2009.
Parking issues
"Mr Wight appeared in court over of a beach of an Asbo by using abusive or offensive words within the hearing of Alan Taylor, resident of Eagle Lane, Braintree," the spokesman said.
Residents have suggested the dispute between the men might have related to parking issues.
One resident, who did not want to be named, said Mr Taylor and Mr Wight were known to "not get on".
"People are saying that it got worse over Christmas," the resident said.
Paramedics were called on Sunday to a report of a man, believed to be Mr Taylor, having suffered a cardiac arrest. When they arrived he was already dead.
Police said Mr Taylor was found by a family member.
Mr Wight's body was then discovered by a police officer.
A Ford Fiesta van was removed from the cul-de-sac by police on Monday as part of the investigation.
An Essex Police spokesman said: "Inquiries are continuing to establish the sequence of events leading to the deaths.
"The deaths are being treated as suspicious and both scenes are being forensically examined."