More than 1,000 jobs at risk at Essex refinery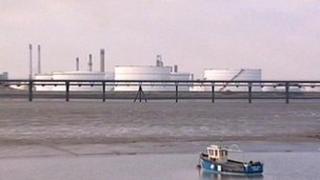 More than 1,000 jobs are at risk at the Coryton oil refinery near Canvey Island in Essex, a Euro-MP has warned.
The refinery is owned by European energy firm Petroplus, which is in crisis after lenders froze its borrowing earlier in the month.
East of England MEP Richard Howitt has called on the European Commission to take action to prevent job cuts.
Petroplus's chief executive Jean-Paul Vettier has said "we will do everything we can to avoid bankruptcy".
However, Mr Howitt said: "Job losses of this scale are completely unacceptable. Everything must be done to avert them."
'Rescue bid'
He said staff at Coryton had been left "anxious" about their future.
"There is deep concern among the workforce," he told the BBC.
He said he had brought together a group of MEPs from across Europe who have Petroplus refineries in their constituencies.
"We have met with the European Commission and called on them to intervene and try and enter into a rescue bid," he said.
Mr Howitt said problems at Coryton could lead to a shortage of oil in the UK as it accounts for 10% of UK capacity.
Petroplus has 4.4% of European refining capacity but the industry has struggled with over-capacity, low margins and competition from cheaper Asian refineries.