Braintree neighbours death: Man was stabbed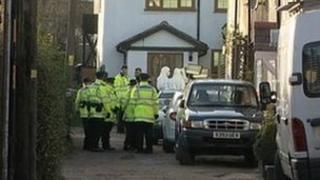 One of the men found dead following a feud between neighbours in Essex died from stab wounds, police have said.
Richard Wight, 55, was discovered by police in his house in Eagle Lane, Braintree, on Sunday.
Alan Taylor, 59, who lived in the property next door, died from natural causes, post mortem tests showed.
Police have revealed Mr Wight had a list of previous convictions dating back 10 years, including one for threatening to kill a neighbour.
He had also been handed an Anti-social Behaviour Order (Asbo) in November 2007 for harassing Mr Taylor.
'Threats to kill'
Mr Taylor was found by a family member. Mr Wight's body was discovered later by a police officer.
Neighbours said the two men had been embroiled in a dispute over issues which included parking.
An Essex Police spokesman said Mr Wight was arrested in December 2001 for threats to kill against another neighbour.
He spent seven months in custody before being sentenced to a community order in June 2002.
In March 2005, Mr Wight appeared in court charged with assaulting a neighbour and was back in court a year later for a public order offence.
In July 2007, Mr Wight was prosecuted for two more public order offences against neighbours - including one of using threatening words or behaviour against Mr Taylor.
Forensic tests
The offences culminated in November 2007 when Mr Wight was sentenced to eight weeks in custody and handed an Asbo for harassing his neighbours, including Mr Taylor.
Mr Wight was then handed a six-month conditional discharge for breaching the Asbo at Chelmsford Crown Court in September 2009.
The Asbo expired on 28 November 2009 and was not re-imposed, police said.
Detectives do not believe a third party was involved in the deaths.
The police spokesman said: "From initial forensic examinations, there is every indication that we will not be looking for anyone else in connection with the deaths.
"Forensic examinations of both addresses are continuing in order to clarify this position."