Southend siege: Man jailed after police stand-off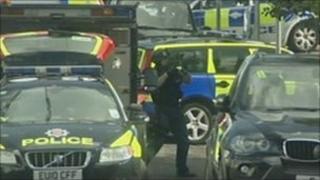 A man who was involved in an 19-hour armed siege in Essex has been jailed for four years.
Steven Stirling, 53, of Burdett Avenue, Westcliff, pleaded guilty at Basildon Court Court to making threats to kill on Tuesday.
Police were called to a house in Elizabeth Road, Southend at 12:30 GMT on 6 July last year where Stirling said he was armed.
Stirling was arrested at 07:30 GMT on 7 July when police entered the house.
Neighbours were unable to return to their homes during the drama as parts of nearby streets were cordoned off by police.
Stirling was also jailed for two years concurrently for affray.
'Career criminal'
Det Con Bob Evans of Essex Police, said: "Steven Stirling is a career criminal who, for reasons only known to himself, decided to embark on this siege which involved large numbers of already over stretched police officers being deployed to the scene for 19 hours.
"It should not be forgotten that his actions also caused great inconvenience to several residents on Elizabeth Road, who were unable to return to their homes due to the threat made in relation to firearms.
"The four-year sentence handed down should act as a deterrent to those thinking of carrying out similar actions."