Ministry of Defence grants for five Essex schools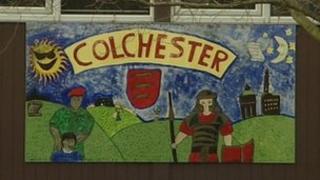 Five schools in Essex are to receive grants from the Ministry of Defence (MoD) to help minimise disruption to children from military families.
The schools are among 139 across the UK who will share a pot of £3m from the Support for State Schools fund.
Three schools are in the garrison town of Colchester, with the other two in Wimbish and Wethersfield.
The money will be spent on a variety of uses, including buying more computers, using Skype and creating sensory rooms.
The grants are the first wave of a four-year scheme announced by the MoD last year.
Its director of its Children and Young People Directorate, Lynda Fisher, said: "We know that moving from one school to another can be a very challenging time for the children of serving personnel.
"[The fund] is to help mitigate some of the effects of moving away from familiar surroundings."
'Emotional problems'
In Colchester, the Montgomery Junior School will get £13,340 and St Michael's Primary, £10,000.
The Wethersfield Church of England Primary in Braintree and Wimbish Primary schools will both receive just short of £6,000.
Montgomery Infant and Nursery, in Colchester, will get £34,200.
The money will be used to create a sensory room and purchase more computers.
Head teacher Sally Leung said about 75% of pupils were from the Colchester Garrison.
She said: "Without their emotional well-being, their learning is going to be disrupted.
"So with the sensory room it's going to allow to help those children who do have emotional problems."
Former commander at Colchester Garrison Col Tony Barton said: "It's very hard to appreciate just what those children go through when their parents are away.
"I think it is fantastic the government has realised there is a genuine need in these schools."