Dale Farm travellers: Police bill tops £2.3m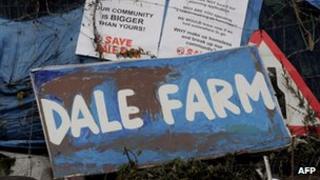 Police spent more than £2.3m on an operation to clear the Dale Farm travellers' site, the Essex force said.
Work to shut down the UK's largest illegal travellers' settlement in Essex, which resulted in violent clashes, was completed in November.
Essex Police said a breakdown of the costs would be released later but this figure covered all police planning, operations and activities.
Basildon Council has yet to announce how much it spent on the operation.
Council officials are awaiting invoices from contractors.
A Essex Police spokeswoman said the figure would be discussed at Essex Police Authority's Finance and Audit Committee on 30 January.
Families evicted
She said the total for "operational and non-operational costs" had totalled £2,375,237.
Even though a final figure has not been confirmed, a council spokesman said the authority was "confident" the cost would come in under the £8m budget.
Last week Basildon Council said it was preparing fresh action to remove caravans from land near the site.
The move could see bailiffs and police return for a second time.
An estimated 80 families were evicted from the six-acre site following a decade-long planning row over the settlement on green belt land.
Within weeks, at least 10 families had moved back on to roads inside the site.
Although the illegal part of the site is now clear, it is estimated there are about 50 caravans parked illegally in the area, both on the roadside and on the legal site, taking it above its 34-plot authorised capacity.