Palace Theatre centenary to be marked by students' films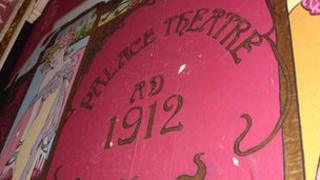 The centenary of an Essex theatre is to be be celebrated with a series of films made by pupils from nearby schools.
The Palace Theatre, in Westcliff, will mark its anniversary on 21 October with a number of events and projects.
Local historians will work with 10 schools to create a film for each decade of the theatre's history.
An archive of documents, programmes and artefacts will also be digitised and made available online, and a community play created and performed.
Chris Izod, a local cinema historian who also works at the Belfairs High School, will lead the film project.
He said: "They are free to interpret their 10 years in any way they like, as long as it sticks directly to the history of the theatre and talks about the theatre in some way.
"It has a very diverse history, which we hope to bring out in the videos, which will then be available as a learning resource for local schools, along with the archive.
"I hope the project will inspire them and they are going to learn just how much this theatre has given to the town."
Big names
The Palace Theatre was opened in 1912 by the Raymond Animated Picture Company, as a dual-purpose theatre and cinema.
It was bought by philanthropist Gertrude Mouillot a few years later, who ran it until handing it over to the local council during World War II.
It has played host to several big names from the world of stage and music, such as Ivor Novello, Dame Helen Mirren, Pierce Brosnan, Dora Bryan, Mott the Hoople and Uriah Heap.
It has also endured lean times and has closed for periods on a number of occasions.
The most recent of these was in 2005, but it reopened a year later when Southend Borough Council signed a 15-year lease with HQ Theatres to run it.