Replacement Harlow Holocaust memorial unveiled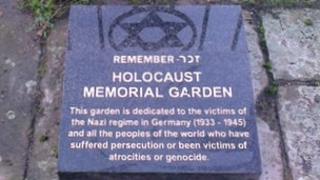 The replacement for a stolen Holocaust memorial has been unveiled in Essex.
The 18 sq inch (116 sq cm) granite slab honouring victims of persecution was dedicated in a ceremony at the Harlow Holocaust Memorial Garden.
It was commissioned by the district council after the previous bronze plaque was taken by thieves from Waterhouse Moore before Christmas.
The new stone carries the same inscription, with the Hebrew word for "remember" added.
The dedication ceremony was led by Rabbi Irit Shillor from the Harlow Synagogue, who hoped the new stone would allow people to move on from the theft.
She said: "I would be very sad if people were to dwell on the theft, rather than on the meaning of the stone replacement."
"It's important to have a memorial. We wouldn't want to have been without it, because people come and visit it all the time.
"I'm very pleased we were able to replace it so quickly and to be able to dedicate it on Holocaust Memorial Day itself."
The Conservative leader of the council, Andrew Johnson, added: "The Holocaust clearly meant nothing to the thieves who took the original memorial."