Ambulance overturns in Essex on 'blue light' call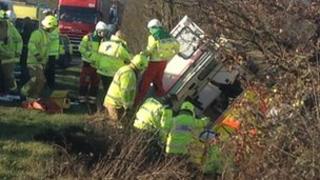 An ambulance overturned and crashed into a ditch while carrying a patient on an emergency "blue lights" call in Essex.
The East of England Ambulance Service said a collision involving a van happened at about 10:25 GMT in Main Road, Danbury.
The patient, aged in his 70s, was moved into another ambulance by firefighters. His condition is stable.
Three ambulance staff suffered minor injuries. The van driver was unhurt.
The ambulance was taking the patient from Great Totham, near Maldon, to Broomfield Hospital, Chelmsford.
Investigation launched
Paramedics were called to the patient's home after reports that he was unconscious.
A second ambulance arrived at the scene "within minutes" of the accident, paramedics said.
The man was carried from the ambulance by firefighters just after 11:00 GMT.
Ambulance service spokesman Gray Sanderson said: "An immediate investigation has been launched by our trust to find out the cause of the collision this morning and we are working closely with Essex Police."
A police spokesman said: "The collision happened when a van and an ambulance struck each other on the A414 shortly before 10:30 GMT.
"The East of England Ambulance personnel were conveyed to Broomfield Hospital by colleagues, where they were treated for minor injuries. The van driver was uninjured."