Elsenham rail deaths: Father's battle for answers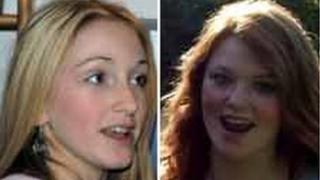 When his daughter and her friend were killed by a speeding train, Chris Bazlinton had no reason to believe it was anything other than a tragic accident.
Olivia Bazlinton, 14, and Charlotte Thompson, 13, were hit by a train doing 70mph through Elsenham station in Essex on 3 December 2005.
The girls had walked across the tracks through an unlocked crossing.
An investigation followed and, in February 2007 an inquest jury returned a verdict of accidental death.
But in February last year the inquiry took a fresh twist when new evidence emerged.
A previously unseen Network Rail risk report revealed safety concerns over the crossing had been expressed in 2002 - three years before their deaths.
Safety breaches
The report recommended new gates should be installed that locked automatically as trains approached.
For the families, the disclosure was confirmation the deaths could have been avoided.
But safety features, including a footbridge and locked wicket gates, were not installed until the summer of 2007.
Mr Bazlinton, 63, a journalist, believes the delay in providing the information amounted to a "cover up".
He said: "When it first happened we thought it was entirely an accident. Then we saw the crossing and thought something wasn't right.
"But what has angered me more than than anything is how long it has taken for this information to come out.
"I want to know to what extent there was a cover up - because I believe there was a cover up. Why didn't this come up at the inquest?
"If there was no cover up, Network Rail has to come clean and say why they didn't disclose this information.
"If it was because their systems are completely inefficient, they should say that. I think it's vital and in the public interest that it is disclosed."
In November last year, it was confirmed Network Rail would be prosecuted over safety breaches.
The company has now indicated at Basildon Magistrates' Court that it will be pleading guilty to three breaches. Sentencing is due to take place on 15 March.
Search for answers
But Mr Bazlinton, who lives in Farnham, Essex, said dealing with the "obvious" safety deficiencies could have prevented the deaths.
"Had they followed their procedures properly back in the 1990s and early 2000s, [the deaths] definitely could have been avoided," said Mr Bazlinton.
"It was completely obvious to anyone who spent two minutes looking at it that it was dangerous.
"You have to trust the experts to do the right thing. Network Rail and their predecessors didn't do the right thing."
Olivia and Charlotte had been due to go Christmas shopping in Cambridge when they were killed.
Mr Bazlinton said his daughter, Olivia, was "fun", "lively" and had a talent for writing and drawing.
"You miss someone like that tremendously," he said.
"You live with this every day. I'm not going to sit back. I want to get answers. People have to be accountable for their actions."
In a statement released after Tuesday's court appearance, David Higgins, chief executive of Network Rail, said: "Last year I apologised in person to the families of Olivia and Charlotte. Today, Network Rail repeats that apology.
"In this tragic case, Network Rail accepts that it was responsible for failings, and therefore we have pleaded guilty.
"Nothing we can say or do will lessen the pain felt by Olivia and Charlotte's families but I have promised them that we are committed to making our railway as safe as possible.
"In recent years we have reassessed all of our 6,500 level crossings and closed over 500. I accept that there is still a long way to go but we are making progress."