Essex and Brentwood end sharing chief executives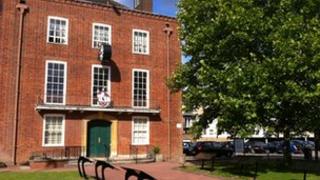 An arrangement between two councils in Essex to share a chief executive is to finish at the end of March.
Joanna Killian took on the part-time role at Brentwood Borough Council in addition to her full-time role at Essex County Council in 2007.
The borough council said a joint decision had been made to end the share, as restructuring meant a chief executive was no longer necessary.
Ms Killian will continue in her role at the county council.
The borough council's current managing director, Alison Crowe, will take on many of the roles previously performed by the chief executive.
The Conservative leader of the council, Louise McKinlay, said Ms Crowe, who is currently paid about £90,000, "will not be receiving a CEO salary".
'Greater responsibility'
She said: "Brentwood is now in the right place for the managing director to take on greater responsibility as the most senior officer of the council, with a stronger and broader management team in support."
Mrs McKinlay said the £30,000 it had paid the county council to share its chief executive had saved it £100,000 each year.
She added the sharing of a number of back-room services, such as human resources, communications and auditing had saved the authority £1.2m to date.
The leader of the opposition in Brentwood, Liberal Democrat councillor David Kendall, said his party had always opposed having a shared chief executive.
'Complete focus'
He said: "It should always have had its own chief executive who was totally focused on the needs of Brentwood residents.
"Instead of having two people, in effect, running the council, we will have one, and I think it will make the decision making process much clearer.
"I'd like to get some more detail as to why this decision has been made and who has ultimately made this decision."
The Conservative leader of Essex County Council, Peter Martin, said: "Both councils have significant challenges to deal with and it is important we both have a chief executive who can give complete focus to dealing with those."