Essex braced for heavy snowfall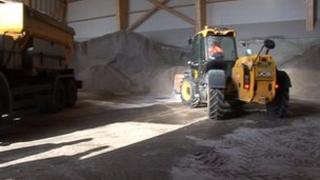 Essex should see heavy snowfall overnight, with the county on on amber alert, the second highest warning issued by the Met Office.
The snow will accumulate, settle and could become 15cm deep in some parts of East Anglia.
Stansted Airport has warned of potential disruption to flights if the weather gets as severe as predicted.
Essex County Council said its gritters would be out from Saturday afternoon and through the evening.
Temperatures will dip to about -2C, with some sleet or snow predicted for Sunday.
Phil Garner, of Weatherquest at the University of East Anglia in Norwich, said: "Obviously it's been very cold over the last few days, and it looks as if we'll see some signifcant snow later and more tonight.
"We'll be left with a good covering tomorrow morning, and with top temperatures of just 1C tomorrow I think a lot of the snow will stick on Sunday and it may be around for a few days yet.
"It's going to be very difficult for driving, with snow falling on to frozen surfaces, so potentially very icy."