South Woodham Ferrers flood: Tests begin on broken water main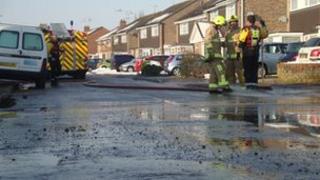 Tests are taking place on a section of burst water main which caused about 70 homes in Essex to be flooded.
Up to 100 properties were evacuated in East Bridge Road, South Woodham Ferrers, on Tuesday as water levels reached up to 30in (72cm).
Bryan Olley, from Essex and Suffolk Water, said broken sections of the cast iron pipe had been sent for testing.
He said: "Depending on that we'll make the decision whether to replace it, or whether it's just a one-off failure."
He added: "The main is quite old, but it's been incredibly reliable and we've never had a problem with it in its entire life."
Mr Olley estimated the rupture of the 28-inch (67cm) main was likely to cost the company "tens of thousands, if not hundreds of thousands of pounds".
'Looks like devastation'
He said: "It's going to take several weeks at the least [to return to normal].
"This is the biggest flooding event we've ever had, but nonetheless it's something we can deal with.
"We've got the contractors, we've got the people on the ground and we're working as hard as we can with the residents."
Of the 70 homes affected, about 40 were flooded internally.
The owner of one flooded home, Geoff Garner, said his living room, kitchen and hallway was covered in a "film of dirt".
He said: "It looks like devastation, I don't know where we're going to begin.
"We can't live downstairs for at least three weeks until it's dried out and then the process of repairing and redecorating begins.
"It will get better and at the end of the day, nobody died. It's just possessions, and they can be replaced."