Three flood risk schemes in Essex approved with £9m funding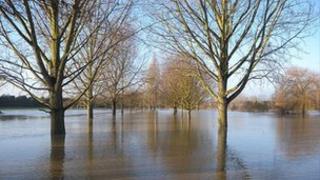 More than £9m is to be spent on three flood defence schemes in Essex, the government has announced.
The Chelmsford Flood Alleviation Scheme, Colchester East Mills Sluice and Tilbury East Dock Channel projects will all receive funding.
It is estimated the work will reduce the risk of flooding for more than 1,160 homes in those areas.
The schemes are among 60 across the UK to be announced by Defra and the Environment Agency.
About 462 homes are expected to see a reduction in flood risk as a result of the £8.6m project in Chelmsford.
A flood storage area at nearby Margaretting to control the flow of flood water along the River Wid into Chelmsford is expected to be completed by the end of 2013.
'Significant contribution'
About 74% of funding will come from Chelmsford Borough Council, with the rest coming from the Environment Agency.
Stuart Graham, inward investment manager at the council, said: "There will be a bund and control structure on the river that will hold back a certain volume of water.
"This will enable the water through the town centre to be controlled."
The £500,000 projects in Colchester and Tilbury will be solely funded by Defra, helping to protect 690 and 669 homes respectively.
Environment minister Richard Benyon said more than five million homes were in flood risk areas in England.
He said: "There's no way we can protect all of those homes as quickly as we'd like.
"But we think we can make a significant contribution by spending over £2.1bn in the next three years to protect as many as possible."