Walton-on-the-Naze pier no longer up for sale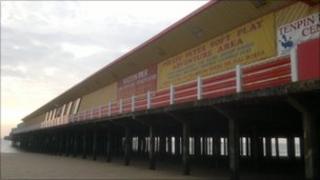 The UK's third longest pleasure pier which was put up for sale last October has been taken off the market.
The owners of the pier at Walton-on-the-Naze, Essex, had been looking for offers in the region of £2.5m.
New Walton Pier Company Ltd has asked its selling agent, Christie and Co, to remove it from the market ahead of the start of the summer season.
Estate agent Bill Colquhoun said there had been interest, but "not sufficient to get close to the price tag".
He added: "We're getting close to the start of the holiday season, so it needs to be prepared for Easter through to the end of the September.
'Narrow market'
"I think these sort of businesses have a window for when they're best sold, which is probably from about October.
"It's a fairly narrow market of buyers, compared to say the market for pubs, but for someone who knows that type of business there's certainly a good profitability to be had from it."
The 795m (2,610 ft) structure was built in 1898 and has been under its current ownership since 2005.
The owners had intended to put the money from the sale towards other aspects of its business.
Mr Colquhuoun said: "The plans from the owner's point of view is to reinvest and possibly introduce new rides.
"So it's off the market for the time being, but if anyone fancies a pier, they can always get in touch and we'll make contact with the owners for them."