London 2012: Essex students begin Olympic volunteer training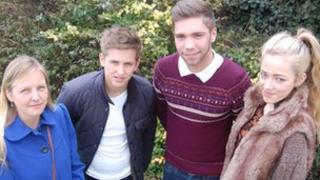 A team of Essex school pupils have started their training to become kit carriers for swimmers at this year's Olympic Games.
The 10 teenagers, who attend Brentwood County High School, are among 2,000 Young Games Makers who will volunteer during the games.
On Sunday they attended their first training session run by Locog at the Aquatics Centre in Stratford, East London.
The team is now preparing to take part in the official test event in March.
Further training will then follow in the run-up to the Games, where they will be present for about eight sessions.
Their role will see them carrying the baskets the swimmers put their dry kit into during the races.
'Well planned'
One of the pupils, 15-year-old Amelia Hart, said: "It was really good. We started off with quite a long meeting and talked about what we're going to be doing.
"We then had a practice at carrying the boxes and had a tour around the Aquatics Centre, which is looking good, although not quite finished yet.
"What's exciting is we don't really know what it'll be like on the day, because it will be a whole different atmosphere."
Teacher Hayley Hawes said one of the key parts of the first day of training was a three-hour presentation on the "dos and don'ts" of the role.
She said: "I don't think they realise how well they've actually done.
"They were told that of the 120 teams of Young Games Makers to apply, only 18 were chosen, which is amazing.
"It's absolutely brilliant for them to be able to meet the swimmers, see the races and see how an Olympics is run."
Student Luke O'Neill, 17, added: "It's all done perfectly and we have to be synchronised. It's so well planned."
The team will take part in the Olympic test event, the British Swimming Championships, will take place between 3 and 10 March.