Fire at Tilbury workshops: Exclusion zone taken down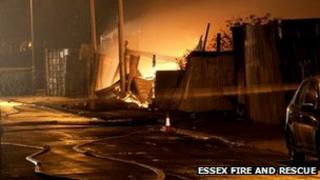 An exclusion zone put in place after a fire damaged car repair workshops and a warehouse in Essex has been taken down.
Homes near the fire in Hume Avenue, Tilbury, were evacuated on Monday night and 60 people were taken to shelter.
More than 75 firefighters tackled flames, which caused rail services on the nearby London to Southend line to be halted.
The fire service said a 650ft (200m) zone would remain for 24 hours to allow acetylene gas cylinders to cool.
An investigation is under way and fire service inspectors are to examine the site where 10 cars were gutted and buildings were severely damaged.
'Potential to explode'
Four fire engines and crews remained at the scene overnight to monitor the cylinders and continue extinguishing the fire.
Divisional Officer Gary Jeffery said: "The fire was in a car repair yard containing various outbuildings and workshops where a number of cars and acetylene cylinders are stored.
"The cylinders have the potential to explode when they become heated and an exclusion zone has been set up around the incident."
A rest centre was set up by the local authority emergency planning team for the residents to take shelter and keep warm.
Mr Jeffrey said a robot had been called in to carry out tests on the acetylene cylinders to determine how safe they were.