Lee Heath family count cost of attending German murder trial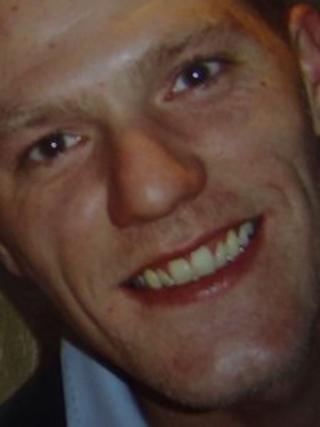 The mother an Essex man killed in Germany is having to raise thousands of pounds to attend the trial of four men accused of his murder.
Lee Heath, 31, who lived in Germany, died after an attack outside a Frankfurt nightclub in April 2011.
Marie Heath, from Silver End, said she was determined to be at the trial, which could last up to eight weeks.
Conservative MP Priti Patel has called on the government to provide more support for families in such cases.
Mr Heath, who had been living and working in Frankfurt for 18 months, died two days after being assaulted outside a nightclub on 25 April.
His mother, a community bus driver, said her family needed to fund several flights to and from Germany, along with other logistical costs.
Ms Heath, 52, said she had received some government funding via the Victim Support charity.
"We all work so we're going to have to try to keep working in between the trial dates," she said.
"There's maybe the option to stay over there through unpaid leave, but I don't know what is the best option.
"I couldn't not be there, I couldn't sit at home thinking this trial's going on and I'm here. That would break my heart."
Witham MP Ms Patel said she was supporting a campaign set up by a local newspaper to raise money for the Heath family.
Statutory support
She said: "I feel the state is letting them down and that is something we have got to change.
"It's a significant amount of money. They can't just go and reside in Germany for eight weeks, they'll have to come back and forward.
"I fundamentally believe there should be some statutory support, some proper support to address the logistical costs of the families who have to travel."
Ms Patel said she had raised the issue during Prime Minister's Questions last month.
In response, David Cameron said: "The Foreign Office will do everything it can to support Marie and her family.
"I have been quite impressed by what the Foreign Office has done in cases like these and I think they do show a sympathy and understanding and I'll make sure this is carried through in this case as well."
Four men are due to stand trial in Frankfurt on 27 March.