Southend cliffs repair work contract advertised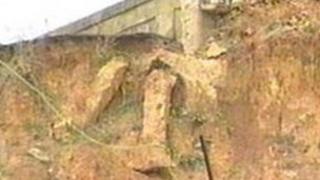 A £3.2m contract to repair a section of crumbling cliffs in an Essex seaside resort has been put out to tender.
Southend Borough Council is looking to complete remedial work needed to the Cliff Gardens area of the seafront, which suffered a landslip in 2002.
The council has added a further £1m to an existing £2.2m fund previously set aside to make the cliffs stable.
Once the work has been completed, the council intends to build a new museum at the base of the cliffs.
The area around the foot of the cliffs has been fenced off for the past decade.
Saxon king
Conservative borough councillor Derek Jarvis said there were several reasons why it had taken a decade to get to this point.
"It's only since about 2006/7 that we've been able to work out exactly what was required for remedial work," he said.
"Once we decided the museum would be here, that remedial work had to take into account what the museum would look like.
"Until the architects had designed the museum, we couldn't put the two projects together."
The council is currently working towards planning permission for the £35m museum, which it hopes could be built by the end of the decade.
It will be home to the artefacts of a Saxon king that were discovered in the town's Priory Park in 2003.