Spencer Anne's caterers fined for filthy kitchen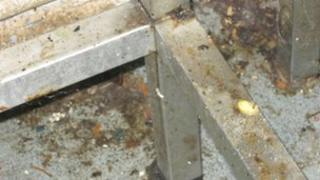 The owner of a catering company which had filthy floors and mouldy walls has been ordered to pay a total of £3,015 for food hygiene breaches.
Spencer Anne's in London Road, Billericay, had dirty floors and equipment and extensive mould on the walls, Basildon magistrates heard.
Basildon Council inspectors found 19-day-old roast beef.
Damon Godding, 38, admitted nine breaches and was fined £1,800, plus £1,200 costs and a £15 surcharge.
Lack of training
His address was listed with the court as The Duck pub in Newney Green, Chelmsford.
Speaking after the case, the council said there was a lack of food safety management and food hygiene training at Spencer Anne's, which describes its style on its website as "food with panache".
Officers found a failure to protect food from contamination and that raw and cooked foods were being kept together.
In January, the council said the financial climate had led to an "unprecedented" rise in food hygiene breaches.
Between April and December 2011, four businesses were prosecuted by the council, which had brought only one case to court in the past three years.
The council said it suspected businesses were "feeling the pinch" and found it difficult to invest.