Attacked footballer Nicky Morgan thankful for support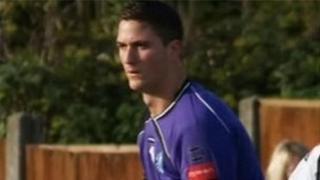 A non-league footballer badly injured in an assault has said support from well-wishers was boosting his recovery.
Billericay Town goalkeeper Nicky Morgan was initially left paralysed from the shoulders down following a fight outside an Essex nightclub in October.
Now undergoing rehabilitation in Buckinghamshire, he is able to use his arms and walk in a swimming pool.
Mr Morgan, 26, said: "I honestly think if I hadn't had the support, I wouldn't be where I am now."
Speaking from Stoke Mandeville Hospital, he added: "I might eventually have got to the same place, but not at the pace I am now, because I really have kicked on.
"It puts a smile on your face and you feel you want to do it for them, rather than yourself."
'Immense' support
Mr Morgan spent several months at Queen's Hospital in Romford, after the incident outside the Sugar Hut club in Brentwood on 28 October.
He said he had received cards from people he had never met and was aware of collections held by several football clubs for him.
"It's been immense. My brother showed me a letter from Hastings Town who had done a whipround and raised £230, and I've never even played for them," he said.
"It means so much. You don't realise how the football community can come together and do good things."
Mr Morgan explained he had initially been warned by doctors he may never walk again after an operation to relieve pressure on his spine.
He said he was trying to keep a positive outlook during his recovery.
"Now I can brush my teeth myself, turn the tap on, feed myself, move my arms up to my mouth, use my fingers to grab stuff," he said.
"If you look back to where I was at the start to now, it's unbelievable.
"Obviously it's going to change my life forever, so we've just got to react to it and try to live the rest of my life the best I can."
A 33-year-old man from Sittingbourne was arrested and released on conditional bail on suspicion of grievous bodily harm in December.