Drivers on M11 hard shoulder branded 'stupid' by police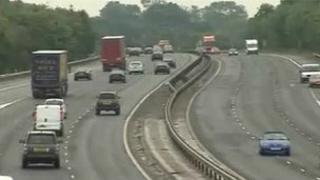 Police said they were "astounded by the stupidity" of some drivers using the hard shoulder along a section of motorway in Essex.
Officers heading to two accidents on the M11 on Wednesday said they had been hampered by several parked vehicles.
People in the queues were also seen walking their dogs and letting children play on the roadside.
Sgt Colin Shead said: "Someone will get killed if motorists continue to act in such a mindless way."
Grandmother stuck
He added; "We were driving to the scene on blues and twos, but were hampered by lorry drivers who were taking breaks on the hard shoulder.
"There was one boy whose grandmother was stuck in the queuing traffic so allowed him to go out on to the hard shoulder."
The force said people should remain in their cars during traffic queues as being on the hard shoulder was "inherently dangerous".
It added there were fixed penalty notices for anyone being parked on the strip without a valid reason.