Essex soldier's death inspires family fundraising bid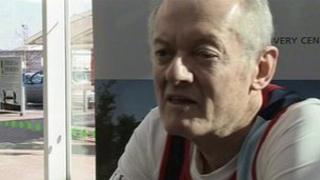 The Essex family of a soldier killed in Afghanistan is aiming to raise £10,000 in his memory for a military charity.
Colour Sjt Kevin Charles Fortuna, 36, died in an explosion while on a patrol in Nahr-e Saraj district in May 2011.
Since then his family has begun raising funds for Help for Heroes for the building of several recovery centres, including one in Colchester.
Father-in-law Mike Jackson, 62, from Lexden, is aiming to run, walk and cycle 1,000 miles (1,610km) this year.
He is completing the challenge in a variety of locations around the town, including gyms and supermarkets.
Mr Jackson said he had already completed 400 miles (643km) since the start of January and expected the final distance to be far higher by the end of the year.
At an inquest into Colour Sjt Fortuna's death, Essex coroner Caroline Beasley-Murray recorded a verdict of unlawful killing while on active service.
Sky dive
"Kev gave his life for our country, so the least I can do is give a year of my life to raise as much money as I can," Mr Jackson said.
"It has taken us quite a long time to come to terms with his death.
"But we thought the best thing to do was to be positive and get something out of it for carrying on defending our country."
The challenge is one of several planned by the family to raise £10,000 in 2012, having raised £4,000 for charity last year.
Colour Sjt Fortuna's widow Nia will sky dive on the first anniversary of her husband's death, while her brother Joe and two cousins will take part in a 350-mile (563km) bicycle ride.
"That left me out of things, so I decided I had better do something," Mr Jackson said.
"I run quite a bit anyway and last year Nia and I ran a marathon together, so I decided I'd do something physical."
A new Personal Recovery Centre, which had received £6m funding from the Help For Heroes charity, is expected to open in Colchester in the next few weeks.
The first of its kind, it will accommodate 29 serviceman and women wounded whilst on duty and their visiting relatives.