Rolex found in Chalkwell drain reunited with owner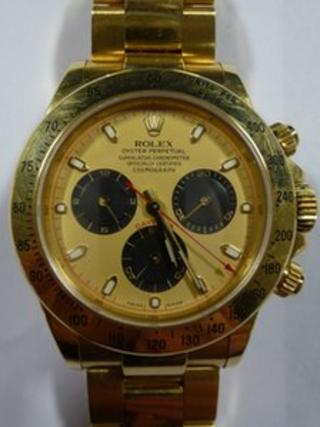 A £21,000 Rolex watch which was discovered in an Essex drain has been reunited with its owner.
The watch, discovered by a street cleaner near Chalkwell railway station two weeks ago, was stolen in a burglary in September, police said.
Three stolen replica watches were also found in the drain.
The owner of the watches described the street cleaner as "the most honest man in England". He gave him the replicas as a reward.
Drain technician Arron Large, 28, from Rayleigh, stood to keep the 18-carat gold Rolex Oyster Perpetual Cosmograph if the owner had not come forward within 30 days.
'Dignity and integrity'
PC Calley Mackay said the watches had been stolen from a nearby house on 11 September.
The Rolex was given to the owner by his late wife,
PC Mackay explained police had received "a high volume of calls from all over the world" as a result of the media coverage surrounding the find.
The owner, a man in his 50s who did not want to be identified, said it was "impossible to express my surprise, delight and gratitude" to Mr Large.
"Arron has demonstrated that the great British working man still has honesty, dignity and integrity," he said.
"I know if my wife was still alive she would want to give him a hug.
"We do hope that... he sleeps soundly in the knowledge he was returned a memento that is priceless for its memories."
Police appealed for further information about the burglary.