Fisher's Estuarine moth project 'shows promising signs'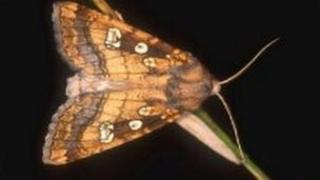 Attempts to protect a rare month from extinction are showing signs of success, according to conservationists.
The Fisher's Estuarine moth is mainly found on low-lying land of the Walton backwaters in north-east Essex.
A project led by Natural England to create 20 new sites less likely to be affected by rising sea levels and boost numbers has been running for 11 years.
Those involved in the project said they had recently found evidence of the moths feeding at 13 of those sites.
The variety, which has a pale gold-brown wing colour with light and dark spots, are naturally found in low-lying areas of coastal grassland which are vulnerable to coastal erosion.
Their caterpillars also feed solely on the hog's fennel plant.
Leon Woodrow, Tendring District Council's nature conservation officer, said: "Five of these sites were colonised naturally by the moth, demonstrating the sustainability of the habitat and the fact the moth will disperse up to 3km (1.8 miles) to new areas.
"Although it is still early days in ecological terms, the results show that if hog's fennel is available and the grassland habitat is suitable, the moth is capable of extending its range to nearby sites naturally."
The project has also involved work by the Essex Wildlife Trust, Colchester Zoo, Essex Biodiversity Project and the Environment Agency.