Occupy Southend protesters threatened with legal action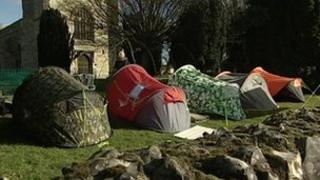 A vicar has told protesters who have set up camp in an Essex churchyard he will take legal action to remove them if they do not leave.
Members of Occupy Southend pitched a number of tents without permission in the grounds of St Mary the Virgin church in Prittlewell last Sunday.
In a letter to the protesters, Reverend Shaun Conlon said their occupation was "disrespectful and inappropriate".
The group said it would discuss the letter and its next course of action.
It set up the camp as part of a global movement to raise awareness of concerns about capitalism and unfairness in society.
'Holy ground'
In a letter delivered by hand on Thursday evening, Mr Conlon said their presence was unlawful, distracting and upsetting to some of his parishioners.
"We did not invite you and we have not consented to your occupation," he said.
"When I first spoke with you I made it clear that you must leave. Your continued presence indicates a refusal to do so.
"This is a holy ground, not a protest camp site."
He said their presence on consecrated land was against the law and if the Church failed to take action, the Church itself would be acting unlawfully.
"You do have a choice - to force us to take such action and inevitably divert funds from those in need, or to leave.
"Please, for everyone's sake, leave now."
A spokesperson for Occupy Southend said it needed time for the whole group to consider the contents of the letter and the next move before responding.
Essex Police and Southend Borough Council have previously stated it was up to the church to decide whether to take action to clear the site.