Occupy Southend protesters remain in churchyard after ultimatum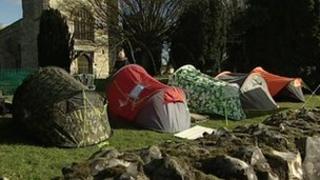 Protesters camping in an Essex churchyard who were told to leave immediately have remained on the site.
Occupy Southend demonstrators at St Mary the Virgin church in Prittlewell voted to leave later this week.
The Diocese of Chelmsford ordered them to go by 15:00 GMT on Sunday, but they were still there after the deadline.
Residents and families who scattered ashes of relatives on land where the tents were pitched, confronted the group on Saturday during their vote.
As a result, the group decided it would leave for another location.
An Occupy Southend spokesman would not reveal where they planned to go, but he expected to dismantle the camp in the next few days and did not comment on the ultimatum.
'Disrespectful and inappropriate'
A spokesman for Chelmsford Diocese said: "The churchyard is holy ground used for burials and interment of ashes; this occupation is unlawful; and it is distracting St Mary's from serving the local community.
"St Mary's takes its responsibilities to the community very seriously.
"The trespassers are reported to have said that they are aiming to leave the churchyard next week. But their occupation is unlawful, disrespectful and inappropriate. They must leave now.
"The vicar of St Mary's, Prittlewell has talked with them several times and at some length. He has also written to them, and told them to leave."
The group had set up the camp as part of a global movement to raise awareness of concerns about capitalism and unfairness in society.