Colchester Hospital gets new blood testing equipment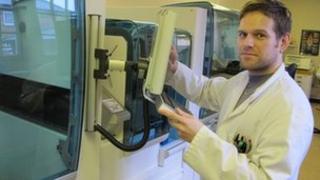 Two new analysers for blood and other body fluids have been bought for a hospital laboratory in Essex.
The units, part of a £2.5m equipment replacement programme at Colchester Hospital, will carry out 4.5 million tests a year.
The vast majority of results will be reported to doctors and clinician staff the same day they are taken.
About 85% of tests will be on blood. Other substances examined come from the eyes, intestines, bladder and kidneys.
Manager Keith Bedwell said: "The new equipment includes two new analysers to replace four smaller units which were eight years old and not immune from breaking down due to their age."
About 60% of the samples come from local GP practices and rest from nearby hospitals