Work at fire-hit Tilbury power station 'to last days'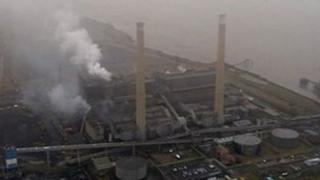 An operation to deal with the aftermath of a fire at an Essex power station could last for days, the fire service has said.
The blaze at Tilbury power station broke out on Monday morning and was brought under control by the afternoon.
Firefighters are using foam to blanket two biomass storage hoppers affected by the fire, while fuel and embers are taken from site.
Investigations are continuing into the cause of the fire.
A spokesman for Essex County Fire and Rescue Service said: "Firefighters remain on site and will continue to be there for some time to come."
There were four fire engines at the scene on Wednesday as crews used jets to cool the fuel as it was taken out of the hoppers.
Divisional Officer Gary Jeffrey said: "The operation to remove the fuel is going well.
"We are cooling the product as it is removed from the bunker and ensuring that a blanket of foam is kept on top of the fuel in the hopper."