Dale Farm travellers lose appeal over plans for new pitches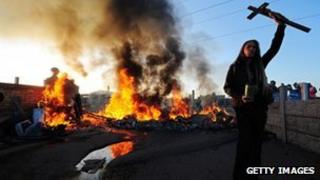 Travellers evicted from the UK's largest illegal settlement in Essex have lost an appeal to build new pitches on nearby land.
Basildon Council and Essex Police cleared 50 illegal plots from Dale Farm travellers' site in October last year.
The former residents appealed against a decision by Basildon Council to refuse permission for 12 pitches at a nearby site in Laindon.
But the Department for Communities and Local Government rejected the action.
In a decision letter, the department said the proposed development would result in the loss of open land and be out of keeping with the surrounding area.
It said the site would compromise road safety, have an impact on those living nearby and present a threat to protected species.
'Desperate conditions'
Stuart Hardwicke Carruthers, a representative of the travellers, said the proposed pitches on open land would have helped provide accommodation for those displaced by the Dale Farm clearance.
Mary Sheridan, a former Dale Farm resident, said: "We're living like refugees here - there are young children, sick people, old people, trying to survive in desperate conditions.
"All we're asking for is a bit of land so that our kids can go to school and the sick can get cared for properly.
"But rather than helping us, Basildon Council seems to just want to push us out on to the road. It's an absolute disgrace."
Basildon Council is considering action against many of those who lived on Dale Farm who settled on a neighbouring legal site, exceeding its authorised capacity.
Tony Ball, leader of the council, said: "We welcome the decision of the planning inspector and note the comments made.
"As we have already said, the council accepts that it will need to provide additional pitches to cater for the growth of the traveller population who live legally in the borough and it will be working with the travellers to do this."