Henry Moore's Harlow sculpture moves to London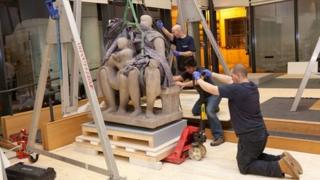 Removal experts spent five hours packing Henry Moore's 1.5 tonne Harlow Family Group sculpture ready for its move to London.
The stone artwork is being loaned to the Victoria & Albert Museum for its British Design 1948-2012 exhibition.
The trio of figures became an unofficial emblem for the Essex town.
Kelly Lean, from the Harlow Art Trust which commissioned it in 1956, said: "It's great that we're acknowledged at such a prestigious show."
The Harlow Art Trust commissioned the sculpture of a mother, father and child when the new town was being designed and built.
It originally stood outdoors at St Mary's Church, Mark Hall, but it has been indoors at the Harlow Civic Centre since 2003.
Optimism of an era
Ms Lean said: "It's come to really epitomise Harlow New Town and what it stood for in the early days - a young family, as many families were in Harlow in the 1950s.
"It suited the era perfectly - the time of optimism and opportunities for families moving to Harlow after the war."
Workmen built a gantry around the two-metre high sculpture and used winches to raise it on to a trolley before it was transported to London by lorry.
Ms Lean said: "It's quite an achievement to get something of that size moved."
Harlow has more than 60 public sculptures, including works by August Rodin and Barbara Hepworth.
The exhibition in London runs from 31 March to 12 August this year.