Essex firefighters leave Tilbury power station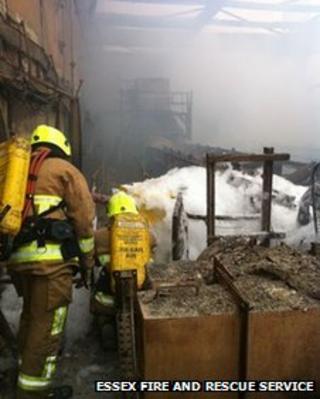 Firefighters have left a power station in Essex, five days after a blaze broke out in a fuel storage area.
More than 100 firefighters were called to Tilbury at 07:45 GMT on Monday and managed to bring the blaze under control by the afternoon.
It then took several days to remove wood pellets from storage hoppers while ensuring the area was covered in a blanket of foam.
The two remaining crews left on Saturday morning.
The fire in a wood pellet hopper involved up to 6,000 tonnes in one of the highest points in the building.
Chief Fire Officer David Johnson described the incident as one of the most challenging fires he had dealt with in his 20-year career.
Overnight on Monday and round-the-clock to Friday afternoon, up to about 30 firefighters worked on removing wood pellets from the building and kept the fire under control in the two affected hoppers.
About 10 firefighters were still at the power station at 08:30 GMT on Saturday, but had left by 11:30 GMT.
The power station is not expected to re-open for several weeks while the damage is assessed and the cause of the fire investigated.