Abberton Reservoir wildlife visitor centre opens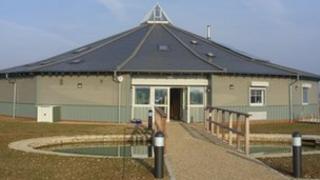 A new wildlife visitor centre and nature reserve has opened as part of a major expansion of an Essex reservoir.
The 15-sided Essex Wildlife Trust building at Abberton Reservoir has been built as part of a £150m project to more than double its capacity.
The site of the previous centre will be flooded as part of Essex & Suffolk Water's enlargement of the reservoir by 15bn litres (328m gallons) of water.
The nature reserve includes a new wood consisting of 25,000 trees.
The visitor centre, which overlooks the reservoir, is twice the size of the previous one and includes education and meeting rooms.
'Hugely significant'
The new nature reserve that surrounds it includes grassland areas which the EWT said was already home to skylarks, lapwings and various species of butterfly.
Once the reservoir expansion is completed in 2015, the trust plans to build several permanent bird hides and extensive reed beds to attract birds such as the bearded tit and the bittern.
Essex Wildlife Trust chief executive John Hall said: "Abberton is already a hugely significant site for wildlife and our new reserve will make it even more crucial.
"Together with Essex & Suffolk Water, we are making Abberton Reservoir better for wildlife, better for people and better for future generations."
The enlargement of the reservoir will see an increase in its footprint by 40% and water levels raised by three metres (9.84ft) by 2015.
John Devall, from Essex & Suffolk Water, said the opening of the visitor centre was "an important milestone" in the project.
He said: "As well as securing future water supplies for the people of Essex, the enlarged reservoir will also create a tremendous environment for wildlife."