Coryton oil refinery administrators 'upbeat' on its future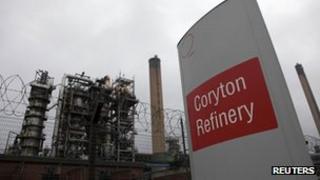 The administrators of an Essex oil refinery said they "remained upbeat" about securing its long-term future.
The Coryton plant came under threat when its Swiss owner Petroplus placed it into administration in January.
PricewaterhouseCoopers (PwC) said £632m of new financing was needed along with the support of its creditors to keep the refinery open in the medium term.
If this is not possible, PwC will continue to look for a new buyer for the refinery or close it down.
Last month, a group of financiers agreed to pay to refine their own oil at the plant for three months, giving administrators more time to find a new buyer.
This week PwC announced it had discovered the refinery had debts of about £1.5bn.
'Very real options'
PwC will hold two meetings this month with the company's creditors to discuss what action it has taken and its plans to restructure the company.
Administrator Steven Pearson said "a wide-reaching financial and operational restructuring" and the support of the company's creditors was need to continue in the mid-term.
Mr Pearson said: "The task is the same as it was at the outset, we need to find a group of people who are willing to back the refinery going forward.
"We found some backers for the short term, what we are now trying to do is turn that into long-term support."
Mr Pearson said either refinancing or finding a new buyer for the refinery were both possible outcomes.
"I remain upbeat both of those are very real options," he said.
He added he was keen to have a solution in place by mid-May, as "the uncertainty doesn't do anybody any great favours".
About 850 people work at the plant, which supplies 20% of fuel in the South East.