Father's anger as Afghan soldiers' Essex plaque destroyed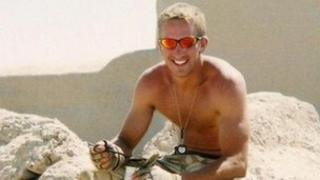 The father of a lance corporal killed in Afghanistan has spoken of his anger after a plaque commemorating his son and eight other soldiers was destroyed.
The plaque, which honoured the Royal Anglian Regiment men killed in 2007, was vandalised at a chapel in Warley, near Brentwood.
A replacement is expected to cost £200.
Robert Hawkins, 68, whose 22-year-old son Alex Hawkins died in an explosion in Helmand Province, said the crime was "demoralising".
Mr Hawkins, from Dereham, Norfolk, said: "I find it very demoralising and sad that people would do this.
"You see so much of this mindless vandalism these days.
'Mindless thuggery'
"As far as I'm concerned, they should lock up the culprits and throw away the key."
The acrylic plaque, which measures about 9in (22.9cm) by 12in (30.5cm), was placed in a rose garden at the regiment's chapel.
Mr Hawkins said he and his family attended a ceremony to unveil it in 2008.
"At the time, any support helps tremendously and this was one thing that did that," said Mr Hawkins.
"It's a time when you're vulnerable and, when people give you that backing, it does make you feel better."
Major Tony Jones, 59, who served in the Royal Anglian Regiment for 38 years, discovered the damage on 2 March and reported it to police.
He said: "In some respects you can understand people stealing plaques and metal for the monetary value but this looks like mindless thuggery."
Maj Jones said he had already received offers to pay for a replacement.
Other soldiers named on the plaque, all from Royal Anglian Regiment, 1st Battalion, were Pte Tony Rawson, 27, from Dagenham, Essex; Capt David Hicks, 26, from Wokingham, Berkshire; Pte John Thrumble, 21, from Chelmsford, Essex; Private Aaron McClure,19, from Ipswich, Suffolk; Cpl Darren Bonner, 31, from Gorleston, Norfolk; L/Cpl George Davey, 23, from Beccles, Suffolk; Pte Chris Gray,19, from Leicester and Pte Robert Foster, 19, from Harlow, Essex.
The number of British military deaths in Afghanistan since 2001 now stands at 404. Six soldiers were killed in an explosion in Kandahar province last week.