Harlow business growth strongest in UK, research shows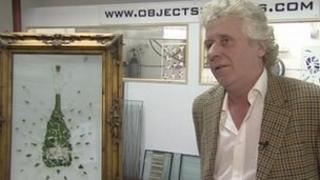 The boss of an expanding Harlow firm has said a key reason for it being one of the strongest areas for business growth in the UK is its location.
Research by Experian, commissioned by the BBC, has shown the Essex town had the biggest business growth rates between July 2010 and February 2012.
In that time the number of businesses grew by 478, the 6.2% average yearly increase being the highest in the UK.
Ross Curtis, of Objects In Glass, said: "I can't imagine a better place to be."
He added: "Obviously you've got the benefits of London being close by, but it's a cheaper place to set up near that big market.
"The business networking is fantastic, if you need to get something made you generally can in Harlow.
"Everything seems to be close by and it's just an easy place to do businesses."
According to the Experian research, the number of businesses in the town increased from 3,782 to 4,260 between 2010 and 2012.
It also saw a 23.5% increase in the number of business start-ups.
Mr Curtis' company, which creates bespoke items for the interior design and architecture industries, was one of those.
He explained it was currently about 5% into its development.
At present he employs one part-time person and an apprentice, but plans to have between eight and 10 staff by the end of the year.
Expansion help
It will shortly be moving to larger premises in the town.
"Where we are located is very much a start-up complex," he said.
"It's an easy-in and easy-out option where you don't have to sign a lease.
"That's given us the wares to be able to move to a bigger factory over the course of five months."
He added: "There's no reason why we would want to move outside of Harlow."
Conservative Harlow councillor Russell Perrin said the authority had "put a lot of effort" into helping small and medium-size businesses grow.
He pointed to the Harlow Enterprise Hub in the Templefields area as an example.
"It's there to ensure they don't fall at the first hurdle of expansion," he said.
"Sometimes that transition from expanding to a larger number of employees and the risk of having to accommodate yourself in a larger space is a big worry for many small businesses.
"The Enterprise Hub makes that transition much smoother and there's a lot of detailed advice on hand if they want it."