Kwik-Fit Porsche mechanic jailed for boy's crash death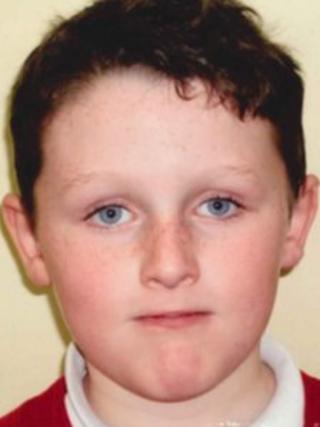 A Kwik-Fit mechanic who killed a boy in Essex while driving a customer's Porsche without consent has been jailed for six-and-a-half years.
Ryan Fleming, eight, died in Maldon when Gary Reader struck him on the A414 on 15 January 2011.
Reader, 32, from Tiptree, admitted causing death by dangerous driving and was jailed at Chelmsford Crown Court.
Timothy Smith, 19, of Little Baddow, admitted causing death by aggravated vehicle taking.
Former Kwik-Fit apprentice Smith, who was the passenger in the Porsche, was jailed for 12 months.
'Empty eyes'
Passing sentence, Judge Charles Gratwicke told Reader the consequences of his dangerous driving were "horrifying".
He said: "This was not your vehicle, it was not a vehicle that you drove frequently or were experienced with.
"Therefore there followed, as this court has heard, a course of persistent dangerous driving, with you flagrantly disregarding the rules of the road and having a complete disregard of the danger to other road users that you posed as you drove that vehicle at speed along the highway."
Smith, who was 18 at the time of the tragedy, was the most junior member of staff at Kwik Fit that day, the court heard.
Ryan's family said they hoped the prosecution would send a warning message to drivers that "cars are weapons".
They said in a statement: "We are all stuck for words. They say time will heal, but neither time nor reason will change the way we feel.
"Behind our smiles lie empty eyes and broken hearts. It is very hard for us to come to terms with Ryan's death.
"Justice has today been served on Gary Reader and Timothy Smith. They will have to live with their actions for the rest of their lives."
'Fast and erratic'
A Kwik Fit spokesman said: "Ever since this accident our thoughts have been with Ryan's family, friends and all those affected.
"Following our own investigation into the accident Reader and Smith were dismissed."
Reader and Smith made their admissions at an earlier hearing in February.
Speaking after the February hearing, PC Danny Waller said Reader, of Newbridge Road, and Smith, of Spring Elms Lane, were at work and had no permission to drive the Porsche 911.
"Independent witnesses describe the manner of driving prior to the collision as excessively fast and erratic and witnessed the Porsche wheels spinning and almost losing control," said PC Waller.
"During police interviews, Timothy Smith gave a prepared statement which indicated that the manner of Gary Reader's driving made him feel nervous and had asked his colleague to slow down more than once."